4 October 2021
Customer Question – Vine Weevil?
Q. "We've got 6 bay trees in pots which I think are being attacked by vine weevils (over past few years) – I have attached 2 pictures. So I need to get rid of the grubs AND the beetles as well. I can also try repotting the bays but would rather not if I can avoid it. Please advise." Steve by email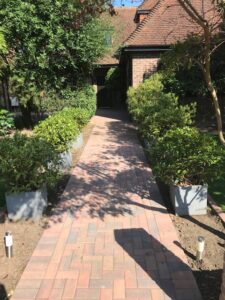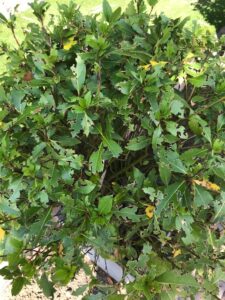 A. Thanks for the message and the pictures. Bay trees are one of vine weevils favourite plants and this is classic vine weevil damage i.e. "U" shaped notches out of the sides of the leaves. The answer is to concentrate on controlling the grubs by applying Nemasys Vine Weevil Killer in the spring and autumn and that will kill  the grubs and therefore cut down on the numbers of adult emerging and damaging the leases. Aim to treat NOW (Sept / October) with Nemasys Vine Weevil Killer  before the soil temp drops (treatment needs a daytime soil temp of 5c) and then treat again in April and then see what the new growth is like next summer. If it is sill being attacked then you may need to position Adult Weevil Traps in the summer and / or add some extra treatments, but normally 2 treatments of Nemasys Vine Weevil Killer a year is enough.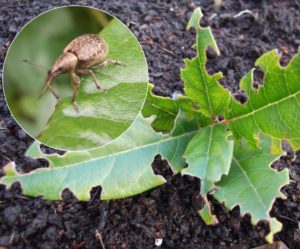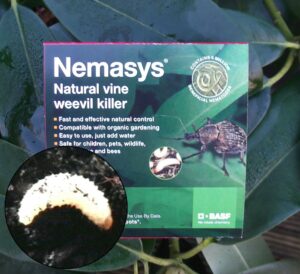 To find out more about treating vine weevils CLICK HERE
---
Available to buy now
Nemasys Vine Weevil Killer 12 sqm
Control vine weevil grubs naturally by applying Nemasys® Vine Weevil Killer. Containing natural nematodes found in UK soil, it has been…
Nemasys Vine Weevil Killer 100 sqm
Control vine weevil grubs naturally by applying Nemasys® Vine Weevil Killer. Containing natural nematodes found in UK soil it has been…