26 May 2021
Customer Question – Controlling Sciarid Fly?
Q. "I have sciarid flies on at least 2 plants currently indoors I was going to order some "Zoot off" but wonder if this will enough on it's own. I can see that there are a couple of other products but wonder whether to stick with this to start with? Thank you." Deborah by email
A. Thanks for the message and if you have Sciarid Fly then you have a combination of larvae and adult flies, so yes we have a range of products and ideally you would use a combination of them all. Or treat the larvae 1st and then as the adults die off, there will not be any new ones developing. Also known as compost fly / fungus gnat, Sciarid fly is a common pest of greenhouse plants in the spring. Young bedding plants, especially bizzie-lizzies, can be affected with large numbers of small flies covering young plants, whilst larvae eat the roots. The Sciarid flies crawl over the compost surface and if disturbed fly on to the lower leaves. The larval stage in the compost attacks the roots and can kill young seedlings. Control sciarid fly naturally by applying Sciarid Nematodes.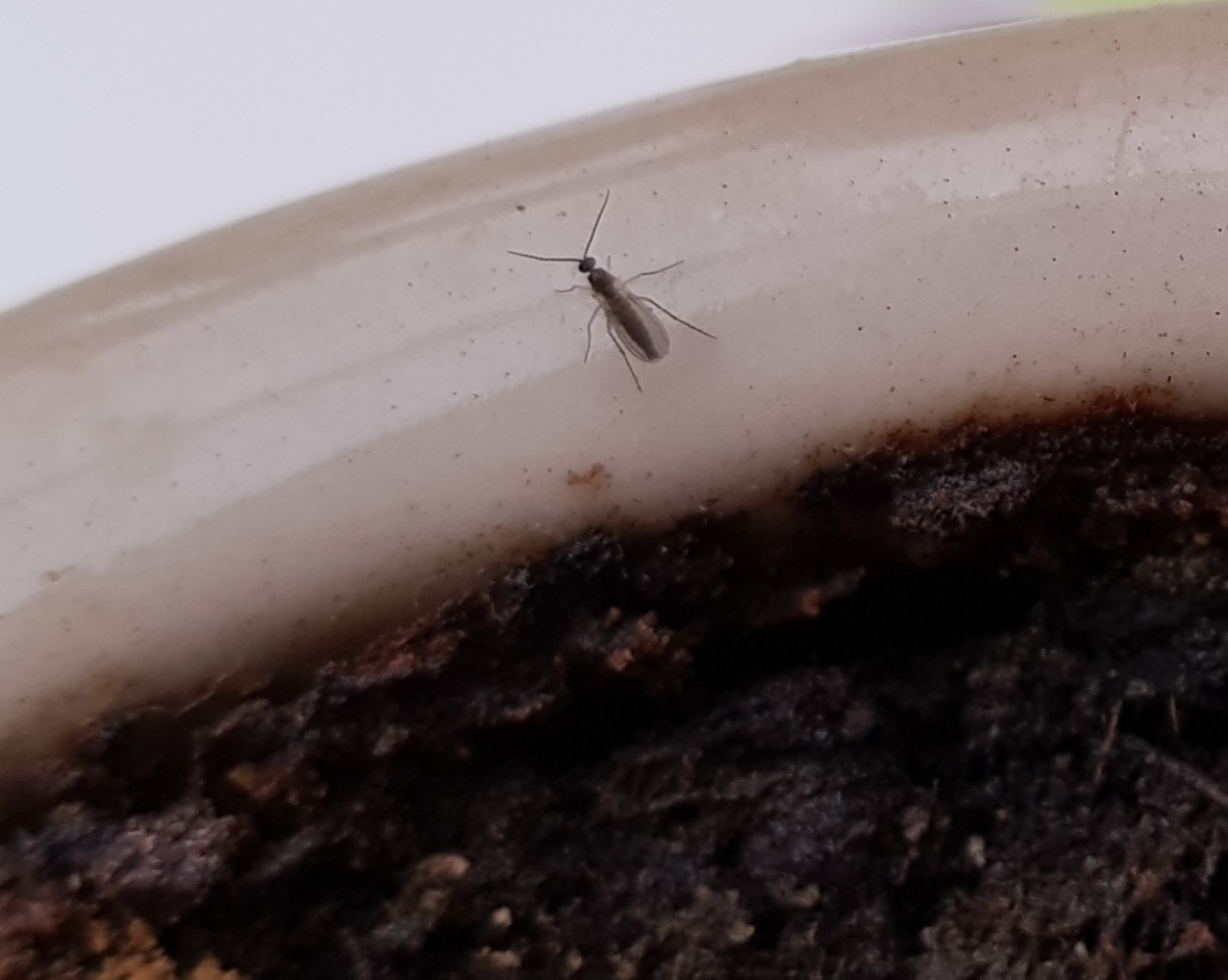 Sciarid Nematodes

– Apply Sciarid Nematodes to control the larvae that will be attacking the roots of the plants and will mature into adult flies. This is the main way to control Sciarid Fly as it is the larvae that do the most damage.  Sciarid Fly Nematodes are safe to use on food crops, safe for children, pets and wildlife and are easy to use – mix the nematodes with water and water directly into the affected pots / trays. Sciarid Fly Nematodes need a daytime soil temperature of 10°C. Safe for plants – will not scorch tender seedlings or young plants. Safe for you – use on plants in your living room or conservatory. Sciarid Nematodes are a living, perishable product (it will keep for up to 2 weeks in the fridge), so please order when the pest is present and you are ready to treat. CLICK HERE to find out more.

Pot Glue Traps

– You would then use Pot Glue Traps to catch and control the adult Flies that are already present. Supplied in a pack of 5 x DOUBLE SIDED Traps with 2 x 30cm metal holders. The pot traps with holders are perfect for positioning at the base of the plant, near the compost to control Sciarid Fly, while the traps can also be suspended higher up the plant for pests like aphids and whitefly. Insect pests are attracted by the bright colour and become stuck to the trap. They should be changed as they become full up with pests or become dirty. Pot Glue Traps are available in packs of 5 with 2 x 30cm metal holders included. CLICK HERE to find out more.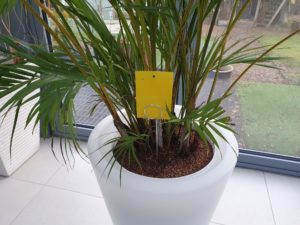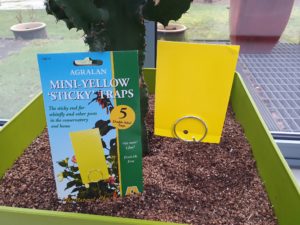 Sciarid Zoot Off – There is then a granular pot topper called Sciarid Zoot Off to protect the pots from future infestations. Stop Sciarid Flies laying their eggs in your pots / containers / seed trays by adding a layer of Sciarid Zoot Off to the surface of your compost. It can be spread around established plants or applied after seeds have been sown and the seedlings will germinate through the dressing. This granular product is made from dried, crushed olive pommace (the dried left-overs from making organic olive oil) with an added volcanic mineral. Sciarid Zoot Off is attractive in appearance, fragrant, biodegradable, safe to use and is totally safe for pets and wildlife. Available in 3L bags, each bag will cover 1.2 sqm. CLICK HERE to find out more.
---
Available to buy now
Sciarid Fly Nematodes
Control sciarid fly naturally by applying Sciard Nematodes when the pest is spotted and the soil temperature is 10°C. Sciarid…
Sciarid Zoot Off
Stop Sciarid Flies laying their eggs in your pots / containers / seed trays by adding a layer of Sciarid Zoot…
Pot Glue Traps
Use these yellow Pot Glue Traps to monitor and control insect pests such as Sciarid Fly in your pots - perfect for…