20 January 2021
Waspinator Poem from a customer
Just want to say thank you to Mrs Maureen W who sent us the following poem about Waspinators and it is so good I thought I would share it………
Advice from a friendly wasp.

So, you don't like wasps, but I want you to know we wasps in spring help you flowers to grow.

Our Larvae love aphids and small tasty flies, such protein helps them and our nest grow in size.

Like bees, we sip nectar and help to make seed. Pollination you know serves both veggies and weed.

We buzzed with delight when we came to see, the food on your table for afternoon tea.

We don't want you cream cake, we don't want your ham. You eat the fruit scones, but leave us the jam!

When summer comes sweet food we would choose, to "get a fix" of sugar and booze.

A Waspinator will give you the delight, of seeing my sisters escape from the sight,

Of an enemy nest, no need for a spray, no dead wasps to clear, you can party all day.

No need to be a wasp exterminator, take advice from a friend hang a Waspinator.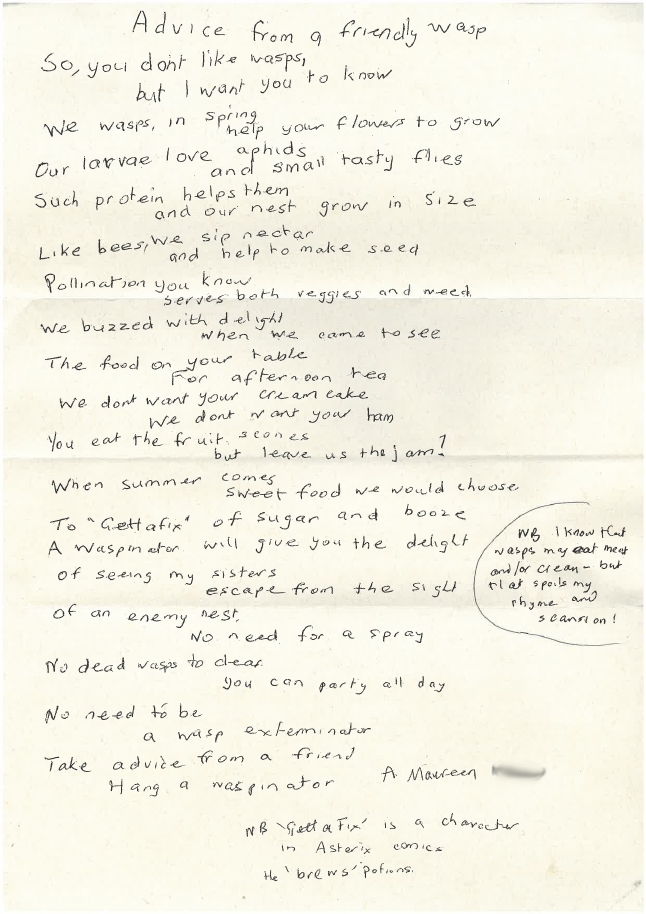 To find out more about how to repel wasps without hurting them with a Waspinator, please CLICK HERE