17 March 2021
Announcing Slug Week – 5th to the 11th April
Does your town – or even your garden – have the most slugs in the country?   Is it a slime hot spot?  And maybe, hiding under one of your garden pots, you'll find the country's BIGGEST slug, lurking in the shadows.
During Slug Week (5-11 April 2021), the makers of Nemaslug Slug Killer (the no1 natural solution to slugs) are asking us to take part in a nationwide search for slugs in their gardens.
To take part in the slug survey, visit www.slugweek.com any time during Slug Week and follow the simple instructions. You'll be asked to put aside 20 minutes one evening during the week and to count all the slugs you can find in various areas of your garden. You'll also need to measure the biggest slug you can find. The information gathered should be submitted on a simple online form.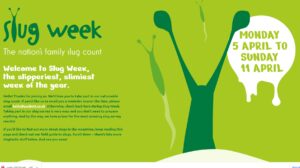 Other things to do during Slug Week:
Go slug spotting: On the Slug Week website, you'll find a printable field guide to slugs you may see in your garden or whilst out on walks.
Get creative: We'd love to see drawings and paintings of slugs on garden plants. Send us your works of art and we'll publish the best on Facebook.
This Great Slug Count is the brainchild of the people at Nemaslug, who make an organic form of slug control. Whilst many slugs are harmless – just a bit yucky to look at – there are some slugs which want to eat our gorgeous garden plants.  If you water Nemaslug around the base of your favourite fruit and veg, you'll be able to save them from the slimy jaws and, because Nemaslug is organic, you can relax when children and pets are in the garden.
To find out more about Nemaslug Slug Killer CLICK HERE